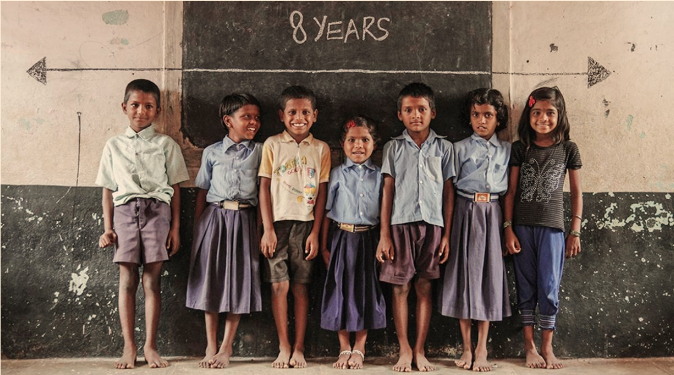 "We are guilty of many errors and many faults, but our worst crime is abandoning the children, rejecting the foundation of life. Many of the things we need can wait. The child cannot. Right now is the time his
bones are being formed, his blood is being made and his senses are being developed. To him, we cannot answer 'Tomorrow'. His name is 'Today'."
– Gabriel Mistral, 1948
What is Malnutrition?
Malnutrition refers to the situation where there is an unbalanced diet in which some nutrients (carbohydrate, protein, fat, vitamins and minerals) are in excess, lacking or in wrong proportion.
The 2017 Global Hunger Index (GHI) Report ranked India 97th out of 118 countries with a serious hunger situation. More than one-third of the world's malnourished children live in India. Among these half of them are underweight and a third of children of the wealthy are overweight. One of the major causes for a high incidence of malnutrition in India is economic inequality and the poor not being able to afford enough food for themselves and their children.
What is Stunting?
Stunting is a serious form of malnutrition or chronic undernutrition during the most critical periods of growth and development of a child – conception to 2 years of age. Stunting is characterized by low
height for age. The World Health Organization (WHO) defines it as the 'height for age" less than two standard deviations of the WHO Child Growth Standards median (who.in/nutgrowthdb/estimates). Most of the brain growth of a child occurs from conception to first two years of life. Stunting can have serious consequences and can lead to long-lasting harmful effects such as diminished mental ability and learning capacity and poor performance at school. This results in poor earning in adulthood. There are also increased risks of nutrition-related chronic diseases such as diabetes, hypertension, and obesity.
Stunting In India and Odisha
India has the highest number of stunted children in the world. 40% of the Indian children under 5 are stunted, the highest rate in the world. Despite the good economic growth in last few decades, the
stunted rate of Indian children has not come down that much. Among the Indian States (2011 Census) U.P. and Bihar have a rate of around 50%, Odisha 38% and Kerala with the lowest rate of 10%.In Odisha,
the districts with very high stunted rates are – Malkangiri, Nabarangpur, Rayagada, Balangir, Subarnapur, Boud, Keonjhar, and Mayurbhanj.
What are the Causes of Stunting?
The causes of stunting in children are very similar if not the same as the causes of malnutrition. Most stunting happens during the 1,000 day period that spans from conception to a child second birthday. During these 1,000 days, almost all of a child's brain growth happens. The main causes of stunting are:
       1. Feeding practices
Lack of adequate nutrition (enough calories, protein, fat, vitamins, and minerals) is the major cause of stunting. Children need to be fed diets which meet the minimum requirements for age, in terms of frequency and diversity in order to prevent undernutrition.
       2. Maternal Nutrition
Poor nutrition of the mother during pregnancy and breastfeeding periods can lead to stunted growth in their children. Women who are underweight during pregnancy give birth to low birth weight babies.
These babies have a higher chance of being stunted than normal birth weight babies. Undernourished mothers also produce less milk for their babies.
       3. Sanitation
There is a clear link between stunted growth and household sanitation practices. Recurrent diarrhea and intestinal worm infestations are clearly linked to poor sanitation. Bacteria, viruses and worms infections
can cause chronic diarrhea and mal-absorption leading to anemia, malnutrition, and stunting. Lack of safe drinking water and toilet facility and proper hand washing will cause bacterial, viral and worm
infections.
As high as a quarter of the cases of stunting are linked to chronic diarrhea among children in the first two years of life. A number of studies have found the connection between poor sanitation and stunting. A 2016 study by Danaei et al of 137 developing countries found that poor sanitation is one of the most important factors causing stunting. It is second only to poor nutrition during pregnancy. Open defecation is an important factor influencing stunting in Indian children. 50% of Indians are still defecating in the open. Open defecation is close to 80% in Odisha.
How to Prevent Stunting?
Provide adequate calories (protein, fat, vitamins and minerals) to all family members. The best way to do this will be for the government to provide direct cash grants to all families below the
poverty line. The cash grant could be, two to three thousands rupees per month to be directly deposited into the accounts of the women in the family. Studies in Brazil and Mexico and other
countries have shown that most poor families use the extra cash to buy food for their families (Bolsafamilia.org). This will mostly solve the current problem of tremendous leakage in all the
free or subsidized food programmes currently being used in India.
Take an extra step of making sure that all pregnant mothers and children under 2 get adequate nutrition. The first 1,000 days is considered crucial "window of opportunity" to prevent stunted
growth.
To minimize the risk of getting diarrhea in infancy, all mothers should breastfeed their babies at least first 12 months of life.
Improve sanitation- Provide toilet and safe drinking water to all. All children should wear shoes. Deworm the children once a year. Deworming is quite inexpensive and effective in getting rid of the worms from children bodies.
Educate the whole family on hygienic practices – hand washing, boiling water for drinking, avoiding street foods etc.
Conclusion
India has the highest number of stunted children in the world. Only one child among 10 in India gets adequate nutrition. Stunted growth is caused by chronic malnutrition ( lack of adequate diet) and chronic diarrhea due to poor sanitation. Stunted children face a lifetime of missed opportunities in education and work. They are also more likely to die from preventable illnesses and diseases. 70 years after independence, the high stunted rate of India's (the highest in the world) children is not acceptable. Both the central and the state governments should give utmost priority to reduce the stunted rate among Indian children to the level of the State of Kerala (10%). GDP growth is not enough.
Children are our future. We should nurture them well when their brains are growing. As Gabriel Mistral wrote in 1948 "To him, we cannot answer 'Tomorrow'. His name is' Today'." India should solve this
stunted growth problem today!