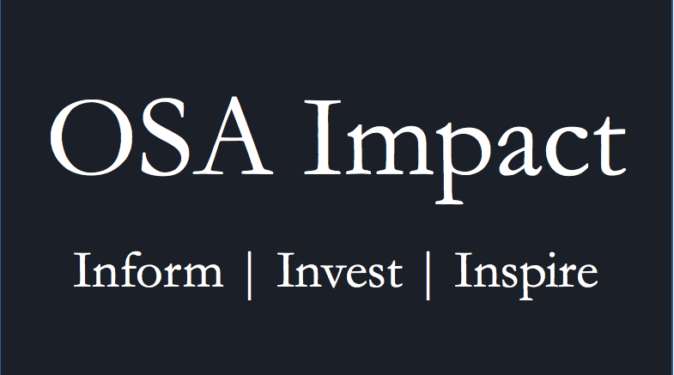 For those who are familiar and unfamiliar with OSA Impact, here is a brief introduction and update:

OSA Impact is an initiative started and fully managed by next generation Odias in OSA. We came together with the mission to have some social impact in our home state, which happens to be one of the poorest in India. Since OSA Impact's inception in the fall of 2016, our mission has been evolving as we have developed a deeper understanding of Odisha's needs and OSA's strengths.

That being said, OSA Impact's mission is threefold: Inform, Invest, and Inspire.

                                                                                                   Inform

This is where everything starts. Living in the United States or in various places around the world makes it difficult to stay updated on the developments in Odisha – particularly on the challenges our home state faces whether it be clean water scarcity, accelerating levels of unemployment, human trafficking, etcetera. Yet, it is crucial that we not only give back to Odisha, but that we do so intelligently. For this reason, the Odia diaspora must be informed on the issues.

And so OSA Impact is proud to introduce OSA Impact Insights, a bi-weekly briefing sent via email. Our team is constantly in contact with reputable stakeholders on the ground, conducting interviews with the people who know the problems best, and curating content to keep us, the Odia diaspora, informed.

                                                                                                   Invest

One of the biggest roadblocks to Odisha's development is a lack of funding for social enterprises (who are generally much more effective at scaling impact than are charities). These enterprises are stigmatized in their early stages by mainstream capital because of their core social missions. Only until they are in their later stages, do they receive attention from venture capitalists, large foundations, and others.

The lack of funding in the early stages kills most social enterprises, and this is where OSA Impact can come in. Due to our singular purpose to create social impact in Odisha, we can provide patient capital to help such enterprises to grow in their early stages. We are currently closing our first investment in a company called eKutir and will be starting our next rounds of investment this fall.

                                                                                                   Inspire

The future belongs to innovators. The future belongs to entrepreneurs. Yet what is missing in the majority of Odia colleges is exposure to entrepreneurship, much less an entrepreneurship curriculum.

OSA Impact believes that Odisha has all of the resources it needs to develop itself – especially human capital. All Odias, particularly recent college graduates, must be empowered to believe that they can innovate and solve their own problems. For this reason, OSA Impact is actively forming partnerships on the ground right now and is creating the infrastructure necessary to empower our next generation Odias, both in Odisha and in the diaspora.

If you are interested in joining our growing team or supporting us, kindly reach us at impact@odishasociety.org.